Free delivery
Shipments Tracking
Return free of charge within 14 days
Secure shopping
Multiple payments
Customer Service 24/7
One year guarantee
Netatmo smart smoke detector, protects your home night and day

Best Seller on Onefantasticshop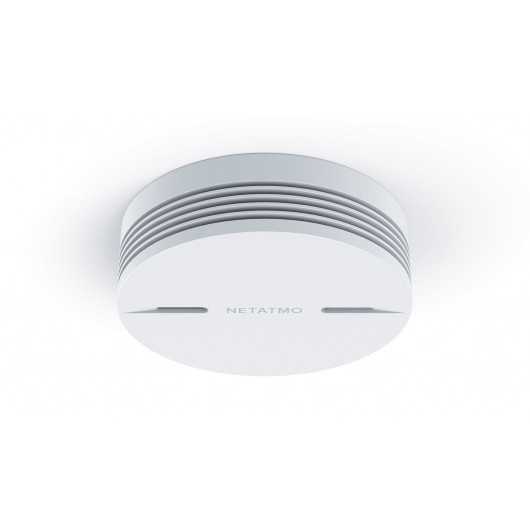 Netatmo is a smart smoke detector that is installed quickly and warns you on your smartphone when the alarm is triggered.
Origin: France 
Free shipping !
Free
delivery
Rated
5.00
on the scale
1
-
5
based on
3
customer reviews
This smoke detector is easy to install and set up. The instruction manual was straight forward and didn't take long for me to read. I got it working quickly. And tested it without a problem. It looks well-made and should last a long time.
I bought this mainly for the size. I didn't want huge detectors all over my ceiling but I know I needed it around the house since we have little ones. I tested it with smoke and so far it worked. The alarm is loud enough that I can hear it from another floor. Easy to install and it comes with the installation hardware. Overall, this was a great purchase.
I'm so happy I spent the extra money to buy the all in one. They were easy to install and now I have no worries about not having smoke detectors in the house.
DISCOVER NETATMO
Cares for you home when you're not there
The smart smoke detector does more than just ring when it detects smoke. Even if the 85 dB alarm is powerful, it's only efficient if you are at home. Netatmo smart smoke detector alerts you on your smartphone when you are away from home as soon as the alarm starts ringing. You can also add your family members so that they are alerted on their smartphone as well. If the alarm started for the wrong reasons like if a toast is burning, you don't need to reach the smoke detector anymore. With one click on your smartphone, you can stop the alarm from ringing. The smoke detector is fully monitored from your phone. Thanks to these alerts, you can quickly call for help to secure your home.
No more need to worry about changing the batteries
Most batteries for smoke detectors empty too fast and people forget to change them. If a fire starts, their detector can't alert them of what is going on. Thanks to the smart smoke detector, you don't need to think about this anymore as the battery included lasts up to 10 years. After this time, it is advised to change any smoke detector.
Very easy to install
You only need to screw the smart smoke detector Netatmo to the ceiling, download the app and you're good to go. It has an automatic test to make sure it works correctly. It control the battery and the smoke sensor through the app. If something was to go wrong, you would be alerted on the app.
You can define when you want to control the smoke detector, it is advise to do it once a year. It is an autonomous product and doesn't need any other device to function. It is certified according to the norms and avoid fake alarms.
Customers who viewed this item also viewed
2 other products in the same category: