Free delivery
Shipments Tracking
Return free of charge within 14 days
Secure shopping
Multiple payments
Customer Service 24/7
One year guarantee
TANITA's RD-545 InnerScan PRO
TANITA's InnerScan PRO RD-545 tells you segmental body composition (right arm, left arm, right leg, left leg, and trunk), monitors physical changes and body balance, and features a a new exclusive technology - muscle quality score. That's 26 measures in total!
Free
delivery
Rated
4.50
on the scale
1
-
5
based on
2
customer reviews
My wife and I both enjoy all the features of the scale and the app. It will help me to stay motivated I'm sure and to gain 6 kg of muscle and lose fat.
I had a hard time understanding the app at first, but after a few days I got the hang of it and now I am unable to live without it. I love seeing my progress on it which has been steady since I bought it.
---
Product Description

The RD-545 InnerScan PRO is one of, the world's first and only consumer product line offering multi-frequency, Bluetooth wireless, segmental body composition measurement. Taking fitness and health monitoring to the highest standard. More measurements, greater accuracy, over a wider range of body types. Where resolution, repeatability and precision are taken higher as only multi-frequency technology can offer.
The RD-545 InnerScan PRO provides an in-depth analysis of 26 body composition readings. Measurements include: weight, body fat, muscle mass, muscle quality score, physique rating, bone mass, visceral fat, basal metabolic rate, metabolic age, total body water, and BMI. The addition of the hand electrodes allows the RD-545 InnerScan PRO to perform a segmental fat and muscle analysis of the arms, legs, and trunk (5 segmental fat measurements, 5 segmental muscle mass measurements).
A newly developed pulse measurement function provides a resting Heart Rate Measurement value that can be tracked along with body composition, linking cardiovascular health to body composition values and fitness.
Integrated Bluetooth 4.0 Technology automatically uploads all this data to the FREE Healthy Edge Mobile App (iPhone 4S or above, or Android phone 4.4 or above, found on iTunes or Google Play). Viewing results and tracking progress is simple with easy-to-read charts, graphs and assessments.

Advanced Body Composition with Bluetooth
The Tanita RD-545 InnerScan PRO uses the very latest technology to provide the most accurate body analysis possible, while also sending this data to your smart phone, or tablet, for detailed review and analysis.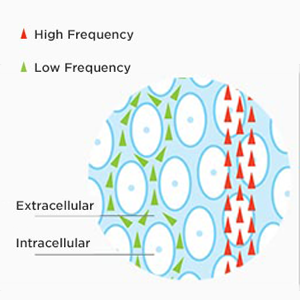 Bioelectrical Impedance Analysis (BIA)
Tanita is the World's First Company to use multi-frequency Bioelectrical Impedance Analysis (BIA) in consumer scales. This advanced technology provides an additional level of accuracy to the body composition analysis process by providing essential data of a person's intracellular and extracellular status. This allows an analyzed measurement on a cellular structure, and determines the 'quality' of the muscle tissue, in addition to its muscle mass. Both 'quantity' and 'quality' of muscles are important for achieving high levels of performance in many sporting events.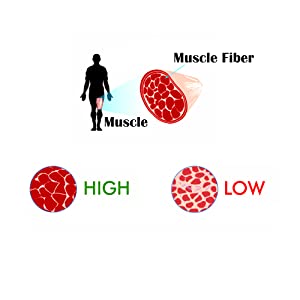 Muscle Quality
Analysis of the cellular data from the BIA measurements allows the RD-545 InnerScan PRO to determine the quality of the muscle tissue, in addition to mass. Knowing muscle quality and muscle mass is essential for training analysis and monitoring injuries.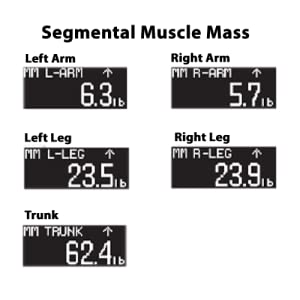 Segmental Measurements
The RD-545 PRO has 4 electrodes on the platform as well as 4 on the display handle for a total of eight electrodes. The eight electrodes allow the RD-545 PRO to provide a segmental review of the body, this allows an analysis of muscle mass and body fat percentage in each arm, each leg, and the trunk area.
Make sure all fingers make contact with the electrodes, don't pull the cable beyond the red mark, and keep your legs and arms extend for accurate readings.
Customers who viewed this item also viewed
2 other products in the same category: