Free delivery
Shipments Tracking
Return free of charge within 14 days
Secure shopping
Multiple payments
Customer Service 24/7
One year guarantee
Perfect Drink, the connected cocktail scale

Best Seller on Onefantasticshop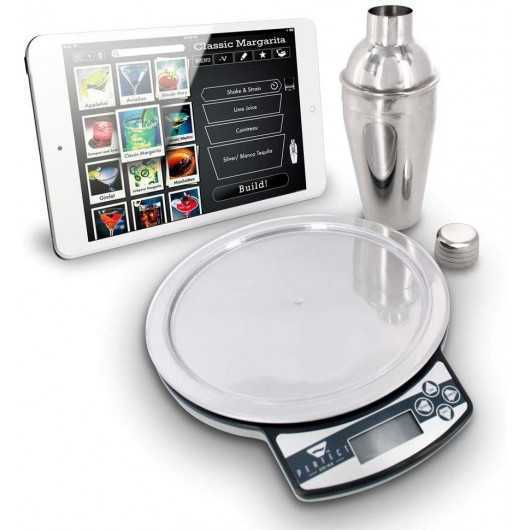 Perfect Drink is a cocktail system that you can control with an app. Connect the scale on your phone and you can achieve hundreds of cocktail recipes at home.
Origin: Canada 
Free shipping !
Free
delivery
DISCOVER ... PERFECT DRINK
Prepare your cocktails easily
The Perfect Drink cocktail scale helps you prepare your cocktails step by step using an Android and iOS smartphone and tablet application and a smart scale. After downloading the Perfect Drink app, all you have to do is plug the cable of the cocktail scale into the audio jack on your phone or tablet and let yourself be guided. You have more than 300 cocktail recipes that you will be able to make simply and quickly by following the information provided to you step by step. No matter how many people you're receiving, Perfect Drink automatically measures the quantities necessary for the successful completion of your cocktails. Simply download the Perfect Drink app, connect the balance cable to the audio jack on your phone or tablet and follow the instructions.
Hundreds of cocktails to make
You step into the shoes of a barman and make more than 300 well-known cocktail recipes, varied and tested by professional bartenders. From margaritas to cosmopolitans to mojitos, you can also make cocktails made famous in movies like the Vesper easily. With Perfect Drink you no longer have to worry about the dosage. The virtual glass fills in real time and tells you when you need to stop. If you mess up adding too much of one ingredient, the app shows you how to adjust your cocktail for each ingredient. You can also have fun creating your own cocktails or personalizing existing ones. You can take photos, add comments and save them in the app. Whether you are alone or with friends, the Perfect Drink scale is large enough to accommodate different containers. The cocktail scale measures automatically and in real time the quantities necessary for the good realization of your cocktails.
Become a real bartender
If you want to make cocktails with what is left at home, indicate on the Perfect Drink app what is left in your cupboard and you will make a tailor-made cocktail. You can search for cocktail recipes using one or more ingredients available at home. The pack contains a connected scale, a 550 ml stainless steel shaker and a tablet/phone holder. The tablet and phone are not included. You can make delicious and perfect cocktails in just a few seconds. You can also create your own personalized cocktails or modify existing ones. The scale works with 3 AAA batteries not included and new recipes are constantly being added.
Customers who viewed this item also viewed
2 other products in the same category: